Six Healthcare Leaders Discuss Top Industry Challenges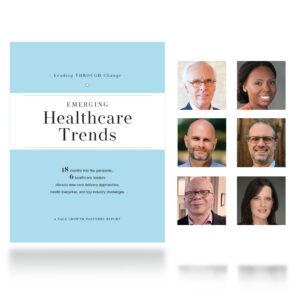 As we approach the 18-month mark since the CDC declared COVID-19 a global pandemic, Sage Growth Partners is assessing the long-term effects on the healthcare industry and identifying the new approaches that plans, providers, and health IT companies should be taking to adapt and thrive over the coming months and years.
To ensure our strategic thinking is informed by multiple perspectives, we regularly discuss new healthcare developments and trends with leaders from across the industry and with varying areas of expertise.
This piece features the perspectives of six of these individuals on three critical industry trends:
New care delivery approaches
Health inequities and social determinants of health
Emerging and enduring industry challenges
To read more on these topics, please fill out the brief form below.
–––
Healthcare Leader Perspective:
Sherry Anderson
President, ProgenyHealth
Sherry leads ProgenyHealth, which provides comprehensive utilization management, case management, and payment validation and assurance for NICU populations. Responsible for all aspects of ProgenyHealth's business operations and strategic planning, she has more than 20 years of experience in healthcare, with significant expertise in the application of technology and complex operational decision-making.
Bob Crutchfield
CEO, TeleHealth Solution
Bob is an innovator, venture capitalist, and healthcare leader focused on advancing science, technology, and medicine. At TeleHealth Solution, a virtual care provider of 24/7/365 care for post-acute facilities and rural-acute
hospitals, he spearheads overall
operations and management of the
company's growth.
Robert Garber
Partner, 7wireVentures
Robert focuses on investments in digital healthcare and technology-enabled services that empower consumers to be better stewards of their health in today's changing environment. He has more than 25 years of experience investing in, advising, and operating early-stage healthcare and technology companies, and he has co-managed three venture funds.
Ben Rooks
Founder & Principal, ST Advisors
Ben brings his more than 25 years
of healthcare experience in equity
research, investment banking, and
independent advisory work to bear
for ST Advisors' clients. He works with healthcare companies to help define the key value drivers of their business, express their strategy, evaluate their approaches, and determine their best partners and ultimate goals.
Burgess Harrison
Executive Director, National Minority Health Association
Burgess leads the National Minority
Health Association (NMHA), a not-for-profit focused on deploying new programs that utilize patient-centered value-based care and on identifying new ways to improve outcomes for minority and underserved communities. NMHA recently won an $11 million grant from The Health Resources and Services Administration to increase vaccinations in 12 states. His background includes more than 25 years of home health, home care, electronic visit verification, and telehealth technology experience.
Idara Umoh
Senior VP, Partner Success and Strategy, DispatchHealth
Idara oversees client success
and growth for all health systems
partnerships at DispatchHealth, which provides advanced on-demand, home-based care. She is a seasoned healthcare executive with over 20 years of experience leading strategy, operations, marketing, change management, and partnership development in high-profile nonprofit, for-profit, and state/federal organizations.
–––
Download the Report