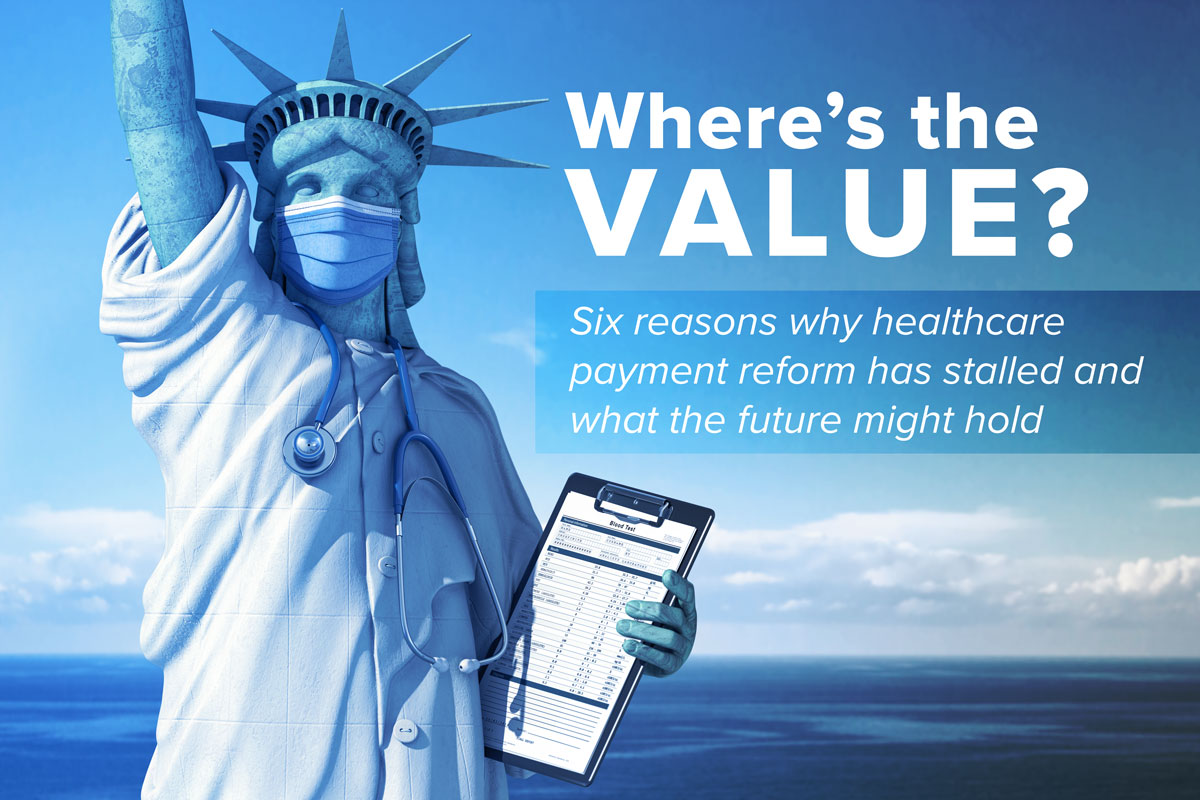 Where's the Value? Six reasons why healthcare payment reform (VBP) has stalled
For years, healthcare industry pundits have been predicting that we're on the verge of a tipping point in value-based payment (VBP) and/or care. In a 2016 survey of 115 payers by ORC International and commissioned by McKesson, respondents predicted that VBP—such as pay-for-performance, global payment or capitation, and bundled payments—would make up at least 60 percent of payments by 2021. 
That may have been overly optimistic. While one ostensibly might argue that the industry reached the tipping point in 2017, when 53 percent of commercial payments to doctors and hospitals involved value-based approaches, only 6 percent of total 2017 dollars entailed downside provider risk. Much of what passes for value-based payments is still built on a foundation of fee-for-service (FFS).
WHERE THE INDUSTRY CURRENTLY STANDS ON VBP 
While CMS originated most of today's alternative payment models, private payers appear to be taking on a greater percentage of the value-based pie. In 2020, over half of private plans offered bundled payments and ACO arrangements, vs. about a quarter of public plans, according to a survey conducted by Insights by Xtelligent Healthcare Media. Yet 83 percent of those survey respondents noted that fee-for-service remained the dominant payment method. 
In 2021, most public payer VBP models still don't entail downside provider risk. According to CMS, for example, 59 percent of Medicare Shared Savings Program participants are still upside-only (though this has improved from 2019 when 71 percent were upside-only). 
The success of VBP programs is also checkered. On one hand, the oncology care program has largely been a debacle, while bundled payment programs have made joint replacement care more predictable with perhaps some gain in quality. A systematic review of the impact on costs, utilization, and quality from studies of three CMS bundled payment programs found these programs maintain or improve quality; however, only lower extremity joint replacement procedures saw lower costs.
A recent article in the New England Journal of Medicine examined the impact of a decade of operating the Center for Medicare and Medicaid Innovation (CMMI), which was funded by the Affordable Care Act at a cost of over $20 billion to spur new models. Author Brad Smith, CMMI Director, said that "value-based care will achieve its promise only if the federal government and stakeholders take more aggressive action to prioritize models that can truly achieve savings and improve quality." The bottom line is that CMS doesn't have a lot to show yet for the considerable time and money spent on such programs. 
DATAGEN AND THE FUTURE OF VALUE-BASED CARE
One of our long-term partners, DataGen, a New York-based healthcare analytics company, conducted a study to take stock of industry adoption of value-based programs, benefits, and anticipated changes.
WHAT'S SLOWING VBP PROGRESS?
Why has the predicted tipping point not yet arrived? There appear to be multiple factors working against the shift, including: 
Entrenched payment models
Competing priorities
Care delivery changes are slow
Immature analytics, risk assessment, and decision tools
Complexity 
Lack of transparency/interoperability
WHERE WE GO FROM HERE WITH VBP 
While progress toward VBP has been slower than many expected, if 2020 taught us one thing, it's that the healthcare industry can move much more quickly than we ever expected. Just consider the rapid expansion of payment for telemedicine services by payers, quick implementation of virtual care models by providers, and the lightning speed at which highly effective COVID-19 vaccines were created. 
Whether VBP will experience a similar trajectory or continue to slow its pace in the years ahead remains to be seen. Some industry experts believe the pandemic will accelerate capitated payment models because providers already in these arrangements weren't adversely affected by the plummeting patient volumes during COVID-19. Others, however, believe the pandemic will decelerate VBP growth. A recent survey of over 200 ACOs by the National Association of ACOs revealed that 77 percent are very concerned about the pandemic's impact on their 2020 performance and that 44 percent are likely/very likely to leave their risk-based model due to these concerns.
Regardless of where VBP is heading, we are encouraged by ongoing efforts among payers and providers to improve the quality of care and reduce costs, as well as by health IT companies that continue to create innovative new tools that can support those efforts. Even if we never fully reach the VBP tipping point, the industry has learned valuable lessons over the past few years that will continue to move us closer to achieving that triple aim of improved quality, lower costs, and a better patient experience. 
PREALIZE PREDICTS IMPACT OF DEFERRED CARE
Prealize Health, a predictive analytics company, conducted a claims analysis of healthcare utilization decreases to help providers and payers better identify patients at risk and predict future care needs.
Their analyses predicted that 2021 deferred screenings and care will increase across three core areas:
Cardiac disease
Cancer
Fractures
IMPLICATIONS FOR HEALTH IT AND HEALTHCARE PROVIDERS
Predictive analytics, automation, and AI are maturing to the point where they can help providers more confidently manage risk and make meaningful gains in efficiency–winners will be those who keep their eye on harnessing the value of these tools in taking the plunge to two-sided risk.
With the U.S. spending trillions to recover from COVID and reduce socioeconomic inequalities in our system, the pressure on healthcare organizations to cut costs can't be put off forever. Payers and providers alike will have to embrace payment and care models that reward better health at lower costs, such as hospital-at-home programs, bundled payments, and capitation.