Here's What Our Partners See in the Year Ahead
2020 was a wild card year. It may be read as a cautionary tale about the dangers of unreliable predictions when reality can change at the drop of a hat. In the face of mounting uncertainty, we watched communities build resilience and companies launch impossible innovations in record time. If anything, the last year has expanded our view on what is possible, and will inform the changing lens through which we attempt to predict the year ahead.
2021 represents much more than a typical "New Year." It represents a renewal and a chance to reconnect, a chance for communities to come back together and for the new solutions we developed in crisis to bloom and usher in a new era of healthcare delivery. To celebrate the New Year and its promise, our four partners got together to peer into their crystal balls and talk about what they see in store for the world of healthcare in the year ahead.

Meet the partners: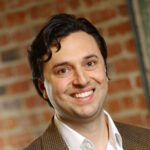 Dan
D'Orazio
Chief Executive Officer
Stephanie
Kovalick
Chief Strategy Officer and GM, Strategy
Boh
Hatter
Chief Marketing Officer and GM, Marketing & Strategic Communications
David
Sheehy
Chief Operating Officer
---
The pandemic proves the case for preventative care and population health
"The pandemic has brought the US healthcare system to the brink of collapse, fundamentally changing it forever. As we continue to navigate through the crisis and build back up, new methods of delivery will be here to stay: telemedicine, remote & home-based care, safety measures, infection surveillance, and more." – SK.
"We will see the value of preventative care and population health be illuminated in the wake of the pandemic. As a result of COVID-19, Americans have delayed critical screenings and procedures. We will start to see the impact this year with spikes in delayed cancer, cardiac and chronic condition diagnosis, causing a ripple effect for years to come: increased healthcare costs, reduced national health and an impact on employers and families alike." – SK.
---
The healthcare consumer is here to stay – let's finally get it right in 2021
"To successfully grow your solutions and truly serve consumers, get beyond the headline. For instance, there is no doubt that telehealth is here to stay. To make telehealth really effective, we must be thoughtful about the end user. Increasingly, we're seeing that men and women prefer different modalities for telehealth (video v. voice), the genders feel differently about the optimal use of telemedicine (first-visit v. follow-up and symptomatic care v. chronic care), lower income patients have different levels of adoptions, and the senior population considers telehealth "as good as," but rarely better, than in person visits. Companies will need to continue looking beyond high level trends and take stock of how various patients are reacting to the increasing prevalence of digital solutions. We have some great findings from our research on this topic here." – DD.
"Patients as consumers should be considered in all growth plans. Delivering convenient, secure, and quality care remotely will continue to set providers apart. Providers who ignore this, do so at their own peril. Thoughtful integration of digital solutions into their current service lines and practices will foster greater adoption and patient loyalty." – DAS.
"As with other services, consumer appetite for convenience will continue the healthcare shift to remote and home-based care. We'll see an increase in self-testing for routine labs and additional forms of viral testing, including for COVID-19 and the flu. We'll also continue to embrace digital solutions for better condition management, medication and device fulfillment, and predicting the need for screenings and advanced care." – SK. 
"The renewed focus on the consumer alone isn't enough. The holy grail consumer-related opportunity for the year ahead remains on getting the B2B2C model right. Creating awareness and then educating patients in how to successfully adopt and engage with digital tools and services that payer, employer, and pharma are offering will connect the dots and provide the real ROI." – DAS.
---
Storytelling marketing will take center stage, as meaningful content becomes critical to captivate
"Humanizing tech solutions with patient stories and their impact on human potential will elevate earned media activities beyond trade publications and into the business and mainstream press." – BH.
"Sales and marketing has had a roller coaster year and has been fundamentally impacted. Aside from the shift to digital engagement, there is new emphasis on messages of safety, health, community, connectivity and equity. We are increasingly susceptible to messages that cut through the noise, and focus on delivering value and moments of joy." – DD.
"We're poised to see trade shows reemerge as a valuable business development tool, but only later on in the year and into early 2022. In the meanwhile, storytelling and meaningful content will be critical for connection. Showcase these pieces using an integrated array of tactics, including: virtual events, webinars, thought leadership panels, case histories, and other forms of lead generation to fill the gap and help reach your customers where they are." – BH.
---
We will see new players rise to the forefront and others fall back while the system itself evolves and innovates in response to consumer demand, preferences and overall economics
"It is strange to consider, but we may see the hospital become the Alternative Site of Care. It's always been other locations that were considered alternate, but more than ever, the hospital is on a path over the next decade to become the outlier. CMS has pushed many innovations including: hospital to home, the expansion of new cardiac procedures in ASCs, site-neutral payments for HOPD, and of course, the maturing of digital and remote care, which opens up a true virtual capacity. As we really begin to take the very first steps toward price transparency, we have the makings of real delivery and payment reform, which may continue to push hospitals out of the forefront of care." – DD.
"Despite Haven's dissolution, big, non-traditional healthcare players will remain a massive force, but likely in more traditional arenas than in large-scale system-wide disruption, like: pharmacy, primary care services, and telehealth. This is less of a full digital health transformation and more of a scale play for point solutions." – DAS.
"Companies will continue to augment or pivot their business models to pursue data monetization plays, but it has become clear that much of the value comes from its integration with other data sources. Maximizing the impact here requires both access to a wider range of high quality data, but also a thoughtful connection with data from other sources. The data providers that play well with others will naturally rise above the rest." – DAS.
"We've watched safety and supply chain innovators rightfully earn greater attention and become a high priority on CEO/CIO/CFO task lists. We don't expect this newfound appreciation to diminish in the year ahead – AI-equipped solutions and automation models will become indispensable tools." – BH.
---
Interested in learning more? Please contact us using the form below: